i love reading other people's diaries. not when they don't want me to, of course, but once they're published for the world to see, that's okay, isn't it? i love the 'covered wagon women-diaries and letters from the western trails' series which goes from 1840-1903. there are 11 books in the series, i think i'm about half way through.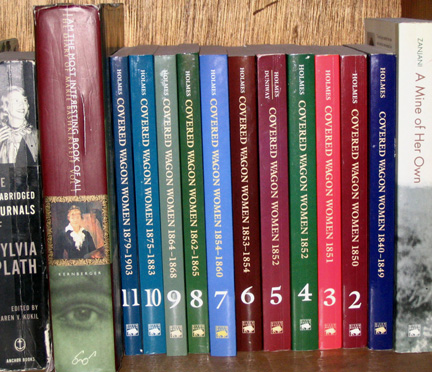 i just got an email from amazon saying a 'best of covered wagon women' book is coming out at the end of the month. you should read it!
another one of my favorites is also in this picture "i am the most interesting book of all-the diary of marie bashkirtseff vol. 1" i bought this as soon as it came out, having read the original translation from 1889 which had alot of portions removed before publishing. i was so excited after i read volume 1, i wrote to chronicle books asking when would the second volume come out, i couldn't wait to read it, and they told me they would not be publishing it! i was so bummed. i read something online a while ago that the second volume may be published by another company. that may just be a rumor but i'm still clinging to hope.
do you have any good diaries to recommend? i really only read diaries written by women, but i won't discriminate!