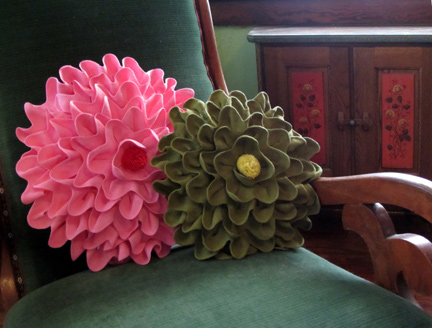 have you seen that 'mega' ric rac? it's gigantic! know what you can make with it? gigantic ric rac dahlias! i made a pair of gigantic ric rac dahlia pillows – here's how…
you will need:
mega ric rac – large pillow is 13″ circle and uses approx. 8.5 yards, small pillow is 11″ circle and uses approx. 5.5 yards  (i bought my mega ric rac here)
wool felt to match ric rac – 1/2 yard per pillow
thread to match
pom pom
stuffing
trace a circle on the felt using a plate or tray in a size you'd like your pillow to be and cut out 2 pieces
sew on ric rac onto one piece of felt the same way as these brooches, gathering the bottom V's of the ric rac and stitching down as you go.
since the ric rac is so big it is easy to sew it on with a sewing machine, and faster!
line it up with the edge of the felt, letting the ric rac overhang the edge by about an inch.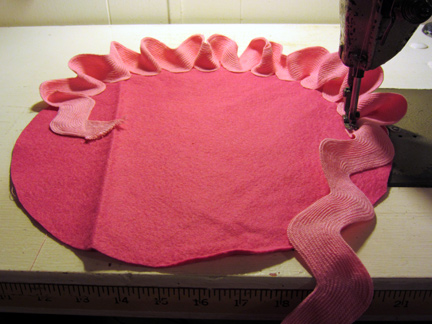 sew the following rows about 1″ below the previous row.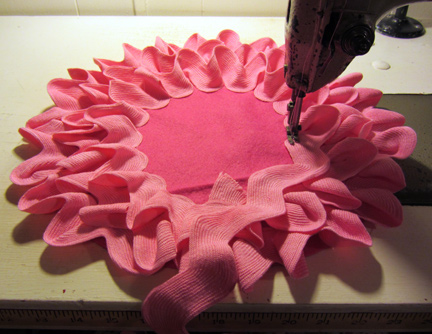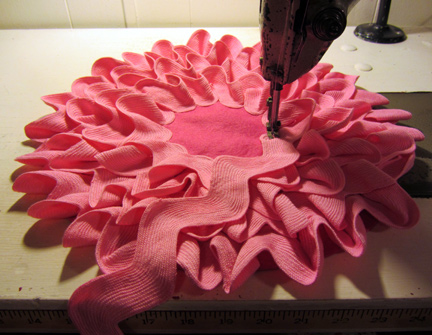 sew a pom pom in the center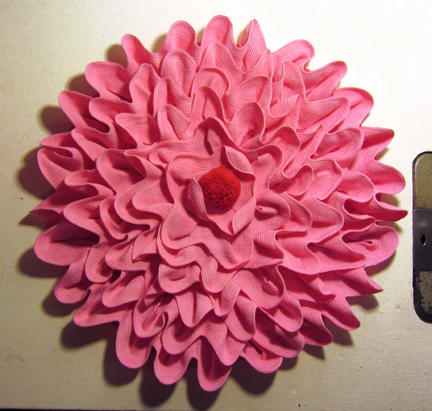 pin the pillow top and bottom together and sew around edges using 1/4″ seam allowance.
i'm sewing on the right side of the pillow so the raw edges will be on the outside of the pillow. i like the way this looks when sewing with felt.
leave a 5″ section open for stuffing. stuff, then sew opening closed.