i'll admit, i may be a little captivated by hungarian honey cakes.  they're just so dang festive-looking!
here's another cute and easy felt project starring those lovely looking treats. i made them flat to use as a placemat or table accent, but it would also be really cute to add a back and stuff it to make a delightful pillow. i might try that next.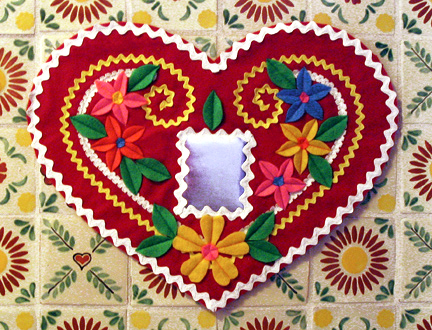 here is a template for the heart shape and flower petal and leaf shapes. they're pretty big, almost 17″ across and about 13.5″ high. i drew in a guide for sewing on the ric rac in the middle so it comes out evenly (click on the picture to enlarge and download the actual size pattern)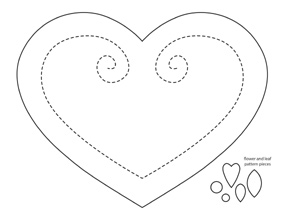 all you need is some felt, ric rac and other trim, and some kind of silver metallic material for the mirror in the middle. i happened to have a piece of silver vinyl lying around but any kind of silver fabric would work. i cut 2 layers of felt for the heart to make it feel more substantial.
first i sewed the 2 heart layers together and the ric rac on the edge. then i marked the layout of the ric rac in the middle with the curlicues and sewed it on. then i sewed on the secondary inner row of trim.
next i stitched on the 'mirror' in the center and trimmed it with ric rac. the mirror can be any size you want, depending on how many flowers you want to sew on.
after that i randomly placed the flowers and leaves where i thought they looked good and pinned them in place. i stitched them down the center of each piece, leaving the edges free so they pop up a little.
they also look great with all white frosting!