anybody who likes to make things undoubtedly has unfinished projects. i'm haunted by one in particular that i don't know if i will ever finish. i'm embarrassed to tell you i started it in 1998, a year after i moved to california.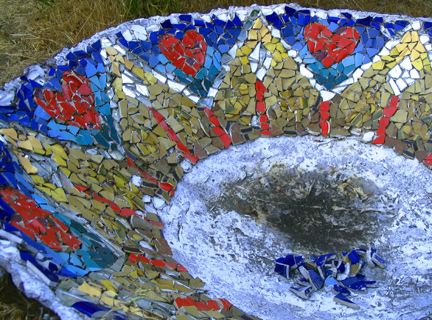 i had big plans for a glorious sparkling backyard fountain. i started the mosaic with 25 cent plates from the thrift store and a broken mirror. i always have a bunch of projects in the works at any one time, and most of them eventually get finished, but i'm starting to lose hope with this one. some of the pieces are starting to fall off because i never grouted it. i've lugged it around for 2 moves, i don't know if it will make it for the 3rd one. what kind of unfinished projects do you have?
ps- if you are in the LA area and would like to take it off my hands, be my guest!! it's big and heavy!