hi there! it's been a while!
i saw these cuties online and had to make some…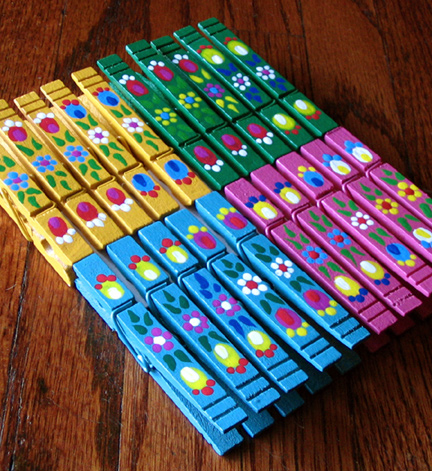 spray painted, then handpainted and clear coated.
now, before you start to question my sanity, let me tell you i already did that when i started to paint clothespins (clothespins? for crying out loud, what am i doing? i don't have the time for this!!) but then i figured, i use them all the time and they look really pretty, so why the heck not? i had a tiny bit of spraypaint left over from a patio chair project, so the clothespins were a perfect way to use up the last few drops in the can. it really didn't take much time to paint them. i didn't think hanging out the laundry could be any more fun than it already is! (imagine how cute they look in a dirndl clothespin bag!!)
in my typical obsessive fashion, i painted more clothespins than i really need. yeah, i painted 100 of them…so i'm giving the bunch in the photo away. (if you'd like them, leave a comment and i'll pick a name tomorrow morning.)
i kept my design fairly simple because i'm not good at decorative painting, but i want to do more of it. i would love to paint something like this bench one day. recently i bought myself this book on tole painting. i like the 'heritage crafts today' series, i also have the hex sign painting book from the series, and a couple of others still on my wishlist.