these cute shirred ric rac flower brooches are super fast and easy to make, even for someone like me who has little patience for hand stitching!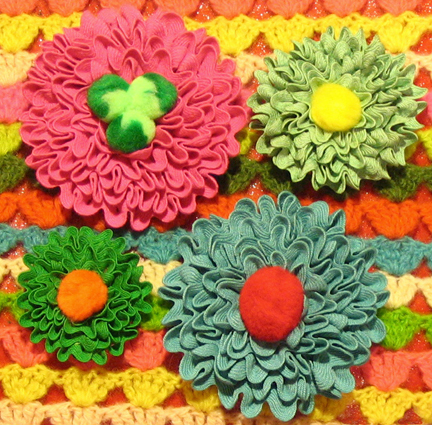 these are based on part of a ric rac wallhanging project from the book "creative crafts & stitchery" (1976). in the original project, the shirred ric rac was glued to a cardboard base. i modified it by sewing the ric rac to a felt backing to make it more wearable.
for the backing, i used two layers of felt cut into circles. shirr the ric rac by stitching in and out at the bottom of each V, gathering and sewing down to the felt backing as you go along.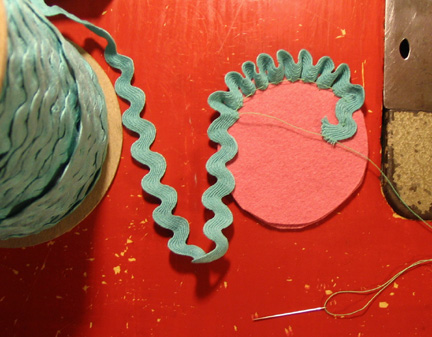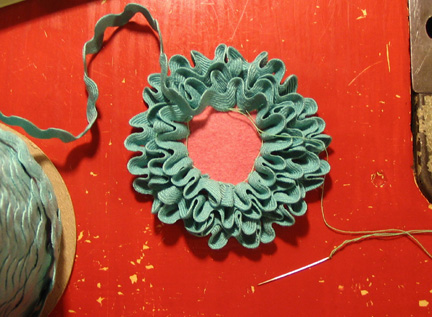 i found that the soft, cotton ric rac is easier to work with than the stiffer poly ric rac. this would be a great project to use up all of those packages of vintage ric rac that are too fragile to use on clothing!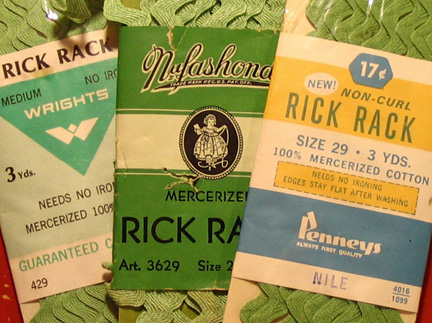 finish up the center with a pom pom (or three!) and sew on a pinback. the next one i make, i think i'll sew a cute button in the center. ooh, or maybe a flashy acrylic gem!
the medium sized light green brooch is about 2¼" wide and used about 2 yards of size 29 ric rac.
P.S. i just made a few of these with patterned ric rac and ric rac with lurex, they came out really neat! check them out here.