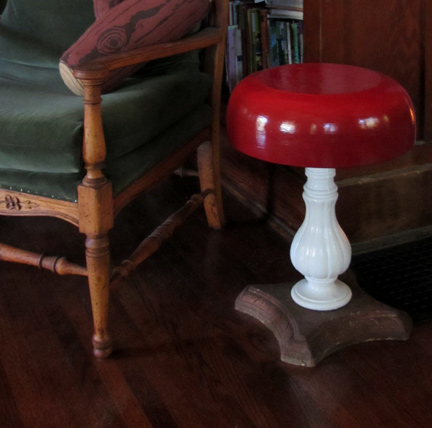 i made this little end table a few months ago. i guess i didn't really 'make' it…maybe i 'restyled' it? (haha i'm a little tired of hearing reading that word on the internets, but i guess that's what it is!) i took off the faux marble top and threw an upside-down bowl on it and painted it red to make it into a toadstool. still haven't decided if i want to paint spots on it or not. i bought this little table at a yardsale when i first moved to california and it's been outside ever since. it's cast iron so it got pretty rusty out there. i always thought the shape looked like a mushroom stem. i painted the stem but left the bottom of the base rusty because it's a nice contrast with the white paint, and it blends in nicely with the wood floor.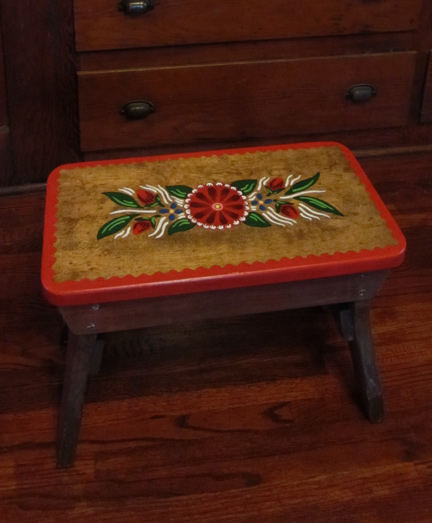 i also painted this little stool. i've talked about painted furniture before, and how i wanted to try/do it. this was my new years eve project. i feel like i cheated a little because the design is traced from this book, but it made painting furniture seem so much less intimidating that way. i picked up another book in the series until i get up my nerve to do something freehand or make up my own design to trace. but i like the way this one turned out so i want to paint more stuff.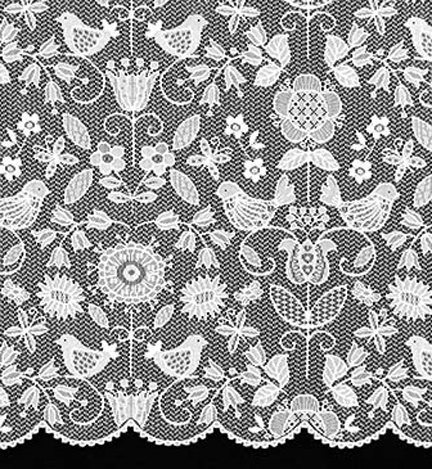 and these curtains! this must be the most perfect lace design ever. and the design is pretty big. and they are made in the USA. of course after i got them i realized i probably should wait to put them up until a certain naughty kitten grows out of the curtain-climbing stage (i think it's almost over).