here's some of my favorite art hangin' around the house…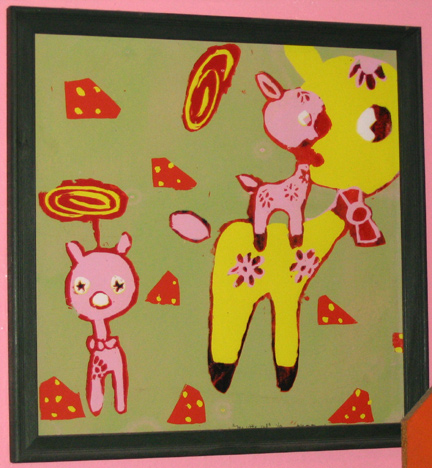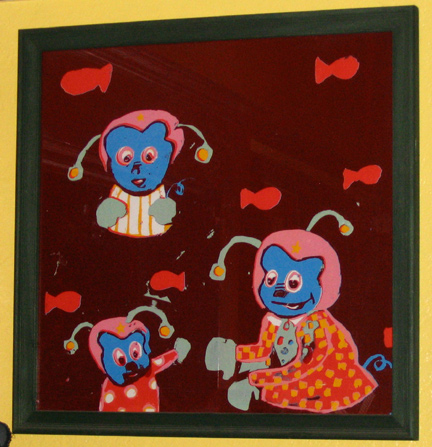 these two are by a girl named amy moi who was an art student in boston. she had a little show up at the middle east around 1994 and i fell in love with her stuff. these are screen prints featuring knick knacks and stuffed things she had. you know i love knick knack art and screen printing! the deer one is called 'my little pal' and the other one is called 'space monkeys'. every once in a while i try to look her up on the internet to see if she's still making stuff. i haven't found any info.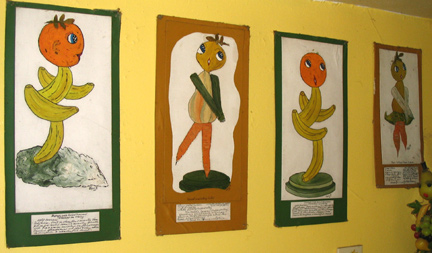 fruit and veggie people by alycia m. in '65. i bought these at the melrose high flea market right after i moved to LA. each one has a recipe underneath featuring the fruit and veggies the people are made out of. fittingly, these are in the kitchen.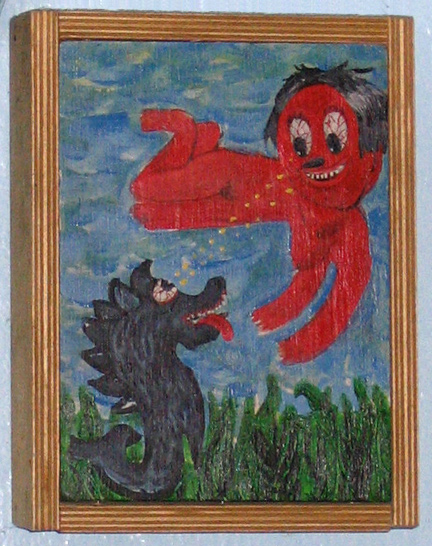 this is a painting on wood by eric ernest johnson, 1993. it's called 'underwater love affair'. it's in the bathroom. where else would a sea hag and sea monster fall in love? my friend mari ran a little art gallery out of her house a few years ago, i saw it there and it really tickled my fancy.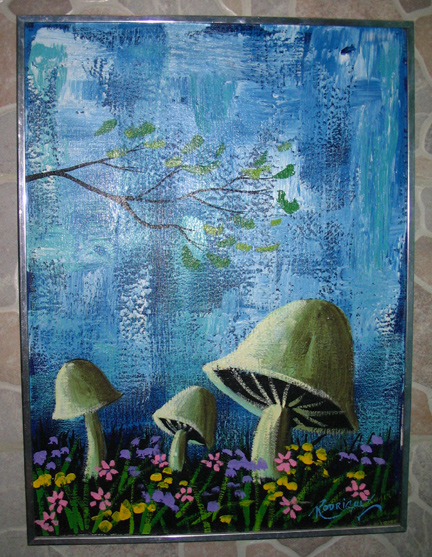 mushrooms by rodriguez. these are in the bathroom too, and inspired my toadstool skirt. this is what you look at when you sit on the can. i found this at a thrift store i used to love, then some lady started working there who tried to accuse me of stealing! as if! that so offended my sensibilities i haven't been back since, despite the temptation…it was a pretty good thrift store, and i used to find alot of great vintage fabric there. (that was about 6 years ago, i'm sure she's gone by now, maybe i should go back?)  but really! just thinking about it gets me steamed.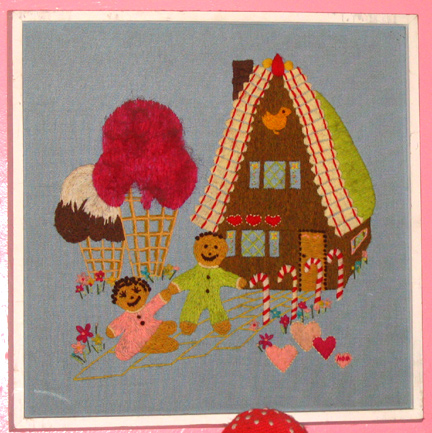 this lovely piece is also from a thrift store. all embroidered with yarn, and simply signed 'mom' in the lower right hand heart. aww. this one is hanging in my workroom. that's it for now! i'll show you some more later.